iPage Overview
iPage is one of the largest, most successful and most established web hosting platforms available today. Since 1998 they have been building their workforce and they are now operated by a team of industry leading veterans who give them tremendously varied experience. Currently the company is responsible for the hosting of over 1,000,000 domains; iPage has over 800 members of staff across six locations.
iPage are famous for being a green, flexible and dependable go to for all things web hosting. They are constantly offering discounted rates and promotions which bring their advanced features well into competition of the smaller companies.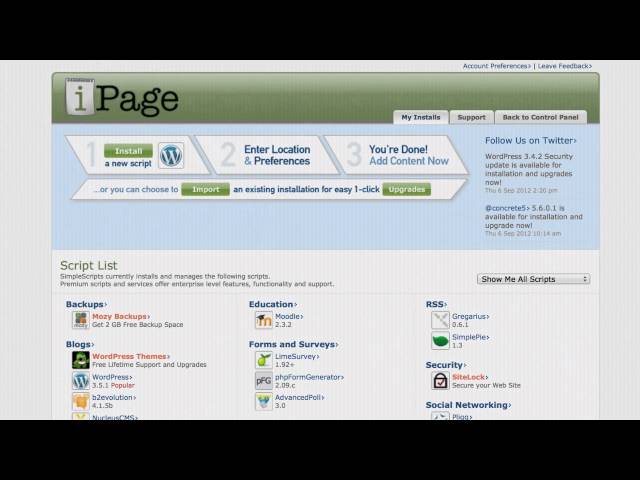 Hosting Features
iPage are proud of their extensive serve and technical abilities which are available to all of their customers, from fan page to corporation;

Techie Features
Marketing & Bonus Features

Unlimited Space

$100 Free Google Credit

Unlimited Bandwidth

$25 Free Yahoo/Bing Credit

Fre

e D

omain

(.co.

uk included

!)

$50 Free Facebook Credit

Unlimited

Domai

ns

Free

Weebly

Site Builde

r

Secure FTP Accounts

Google Webmaster Tools

Unlimited MySQL

Site Analytics Softwa

re

Premium Control Panel (

vDeck

)

Free

SiteLock

Security Suite

Unlimited

Email

Shopping

Cart Plug-I

ns

99.9% Uptime Gu

ar

antee

Free Website Design Suite
Hosting Plans
iPage are one of the growing number of hosting companies who are doing away with the traditional package deals. The popular format a while ago was to offer different deals for different users, ranging from Bronze through Gold. Whilst this does give more customisation, it is often baffling to beginners who don't know what to choose. iPage instead opt to give everybody everything for the same fee, currently set at only £1.99 per month. £1.99 per month entitles every customer to all of the features that iPage offers, including unlimited space, bandwidth and domains, marketing tools and customer service.
The company also offer free domain transference and registration, making switching providers easy and simple. The money back guarantee exists in a familiar 30 day format, in which you can get a refund at any time within the time frame. But iPage goes an extra yard by offering an 'Anytime Guarantee' for the lifetime of your domain. If you can demonstrate that iPage didn't provide the best possible service, you are entitled to a full and complete refund.
iPage offers some great bolt-on free deals, including daily malware and spam scans, $175 of free marketing credits, display certificates and business verification.
Pricing Concerns
As all of iPage's services exist in one function, you only pay one price for their shared hosting package. At as low as £1.99, it would be very hard to say that iPage don't offer value for money. There are no 'optional extras' which are necessary for the smooth running of your site and iPage respects your decision without bombarding you to make extra purchases, they choose to include these at no extra charge.
For instance, every iPage customer is entitled to a free 2GB backup with Carbonite. Carbonite backs up your PC files when it is idle, a great feature for those running their websites with precious documents.
Customer Support
iPage have an incredible level of customer service, with an average wait time by phone at only 2 minutes. In my brief experience with their online chat function (which is 24/7 of course) I was always connected instantly. Added to this, the operative responses were much faster than their competitors, iPage gave the impression that you were their one and only customer. iPage offer chat, e-mail and phone support in addition to their bank of walkthroughs and FAQS hosted on their website.
Reliability:
iPage operate at the now expected level of 99.99% uptime, with user reports suggesting that this is more than accurate. With data centres in six locations, iPage have a significant number of back-up plans and contingencies. All of their server locations are staffed permanently, with on-site security guards and both interior and exterior CCTV to en
sure their safety and maintenance.
Ease of Use
With almost fifteen years of experience, which is akin to old age in the youth of web hosting, iPage have polished and shined their interfaces to perfection. Their vast international customer base have provided them with enough feedback to completely optimise both their website and their user software, meaning the ease-of-use is beyond simple. Their 24/7 customer support means that you should rarely face a problem which can't be overcome within five minutes.
Icing on the Cake
In addition to all listed above, it's worth mentioning that iPage are 100% powered by wind energy. So not only do you get an exemplary service at an incredible rate with legendary reliability, you can also feel good about doing so in the process.
Advertising Disclosure