eHost Overview
At first glance, eHost looks like a service that will meet the needs of professional website designers, first-time site builders and small business owners who want a neat and tidy website. But does eHost's claims that they have 'everything you need to succeed online' stand up to scrutiny? Find out more about this web host in our complete review...
Highlights
Modern drag and drop builder - The DIY site builder on eHost is packed with features that give it an edge over many of its rivals. With quality ready-made templates, full customization, HTML and app support too, it stands up against the rest.
Lifetime free email address & Free Domain. Email is essential for small businesses, and getting this free for life is a major plus point.
Great Customer service options – You can reach eHost with a call, email, or chat 24.7. You're immediately in touch with a knowledgeable and friendly customer support agent.
eHost is a website builder, hosting provider and more. It has a reputation for providing reliable hosting that doesn't cost the earth. Plans start at just £2.20 a month, and with a 45-Day money-back guarantee, you can afford to take a look around their site to see if it's for you.
You might be looking to build a simple brochure site, or something for an expanding business, and sell your goods and services online. eHost provides the tools to meet all these needs, and with a 24.7 data centre that monitors your site, you can expect at least 99% of uptime.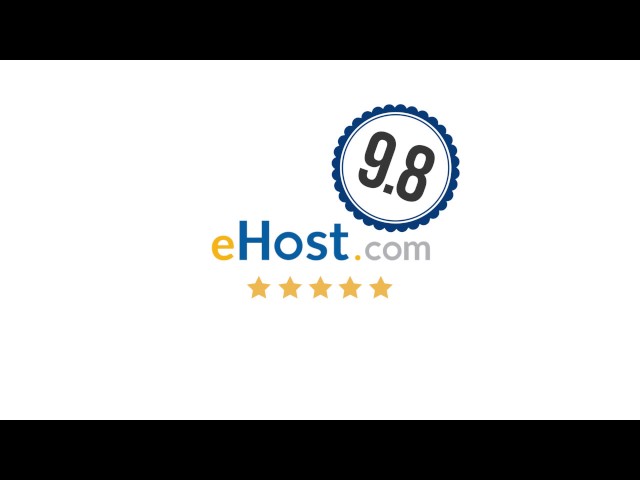 Ideal for
With excellent, always open customer service, eHost is ideal for people who may when they work on their site outside of regular office hours Priority support customers have access to email, chat or phone support. eHost is also good for people who like to look after the pounds in their pocket, even on a monthly plan the most expensive plan is just £13.98 a month.
Hosting Features
eHost takes care of the heavy lifting and gives an easy to use interface that most people will enjoy using. Its easy get set up and eHost features include unmetered bandwidth, 1GB of free cloud storage, free email accounts, unlimited My SQL databases and unmetered bandwidth for all price plans. eHost has been well designed to modern standards, and if you do down the cPanel route – you'll have a familiar interface and that makes eHost a viable choice for Wordpress.
Hosting Technology
eHost offer with a load-balancing platform, daily server backups and 24/7 monitoring, and are set up to ensure the technology is secure, speedy and stable as possible. eHost is powered by Apache, which delivers excellent uptime and reliability.
Pricing
eHost's hosting pricing is clear and has a cheap entry point, you can choose to pay monthly or annually, at even better rates. Be warned, the headline price is not the price you will end up paying, as eHost only reveal essential add-ons, such as site speed booster, as soon as you sign up.
But they do offer a bunch of enticing reasons to choose them – there's an offer of £100's of free advertising credit on Google, Yahoo and Bing. They also offer free email accounts something other providers in this space cash in on. They also offer a free domain for life,
But the most appealing feature of eHost. you'll keep costs down as you won't need to hire an expensive designer thanks to their huge range of modern templates.
| Plan | Introductory Offer 50% discount |
| --- | --- |
| Pro Monthly | £5.99 |
| Pro 12 month | £3.99 |
| Pro 24 month | £2.79 |
| Pro 36 month | £2.20 |
Ease of Use
eHost is intuitive and easy to use. The clean, well organized front-end of their website is mirrored by the orderly control panel provided with all hosting plans. One bugbear is that eHost insists that you choose your domain name before you can get into the service in full, and that's just unnecessary at that stage and will surely put off a lot of customers who aren't quite ready to commit to a domain name purchase.
Their site builder really does impress in terms of ease of use. Everything is nicely designed, and using it is a joy. Not only that, but web pros can use cPanel to install Wordpress and other popular platforms.
eHost does everything it can to make getting started with its service pretty easy and hassle free, which is great as many hosting services can be really challenging to understand at first.
ECommerce tools are easy to find and install, and eHost's free website builder allows first timers to build a good-looking site quickly and easily – even with no web design experience. For eCommerce sites, a specific eCommerce-hosting plan is available and easy to install.
Website Builder Features
A lot of websites offer website builders that fail to impress Not eHost's. It's slick, modern and packed with essential, modern features that take no time at all to configure and it's really fun to play with.
Features include flexible layout options, one-click additions of site elements and easy section reordering. This is important in a site builder, and if you suddenly decide the template you chose isn't meeting your needs, you can reset the template with one click. eHost has a tidy mobile editor as well, it's intuitive and provides a great solution for this essential function.
eHost offer a wide range of professionally designed templates that will meet the needs of the majority small business owners who just need a website to promote their business.
Customer Support
eHost market their customer support options as an important part of their consumer offering. You'll never find yourself without access to phone support, email or chat options and they are available all day, every day. But you most likely won't need it, eHost is super reliable and that's probably part of the reason they can offer you a telephone response time of less than 2 minutes.
Conclusion
eHost looks like a safe bet for small business owners who want to get online with a minimum of fuss. Their site builder is very easy to get to grips with and even if you do get stuck, customer support is quite literally, a click away.
Their headline pricing is slightly lower that some of the other comparable companies out there, but be warned, they will present you with costly and apparently essential add-odds at you as soon as you sign up.
But for the small sign up fee, you do get a Design Suite, Marketing Suite and Support Suite, and that does represent excellent value if you're just experimenting or starting out.
The website builder lives in the design suite, and it's easy to add a blog and an e-commerce app. Without much effort, it is possible to launch a functioning site with one day of work. There's help with marketing with plenty of free vouchers, and if you get stuck, you can call a free phone number. What's more, with a 45-day money back guarantee, there's no risk and if your goal is to get online quickly, this is definitely an option worth exploring.
Advertising Disclosure